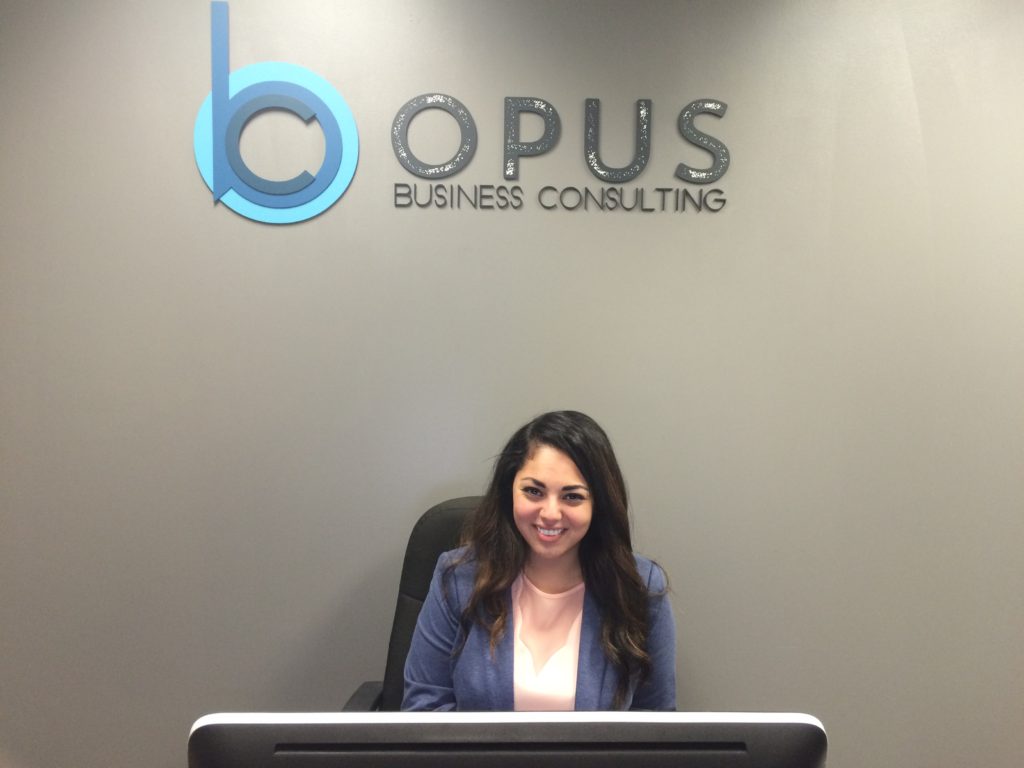 Internships are the perfect opportunity to test the waters of the professional world while you're still in college.  An internship provides college students with the opportunity to connect with mentors in a business setting that aligns with their career goals where they can gain the necessary experience to sharpen their skills while still attending college.
At Opus Business Consulting, we provide internships that serve as perfect learning opportunities to help students develop the skills necessary to dive into the work force when they graduate. Not only are internships a great platform to gain experience, but they are a great way to develop the confidence needed to land that most sought after position post-graduation.
---
Meet Laila!
We'd like to introduce you to Laila, an intern who spent the summer here with us at Opus Business Consulting!  We were thrilled to have had the pleasure of getting to know her and we know that you will enjoy getting to know her just as much!
Laila is originally from Pittsburgh, PA, but is currently attending college at John Carroll University in Cleveland, Ohio.  Her guilty pleasures include a good cup of coffee, Pad Thai, and E. L. Fudge cookies!  She never leaves the house without her phone, a great pair of shoes and a hair tie.  A book that Laila would recommend is, "A Thousand Splendid Suns", by Khaled Hosseini.  When asked why, she quotes, " education of women is important because society has no chance of success if its women are uneducated."
Coincidentally, while pursuing her degree, Laila works for the same custom apparel company that Mike, our Managing Partner, worked with while in college! Another fun fact about Laila is that she is a second degree black belt in karate!
The person who inspires Laila most is her father. Her dad came to America when he was in his 20's by himself, with little money in order to attend school. He taught himself English by listening to the Beatles and worked tirelessly to establish a life for himself here. Forty plus years later, he has a wife and three kids, each of whom he put through college. " He is the American dream and he has taught me to work for what I want ", says Laila of her father.
When asked about her personal goals for the future, Laila responded, " I want to make a positive impact on people, plain and simple."
We wanted to gain some insight on Laila's personal opinion of our internship program, so we asked her to give us some feedback on her experience here at Opus Business Consulting.  Here are Laila's answers to our questions.
What are you studying in school and how has this internship helped?
"I am studying Psychology and Philosophy.  Mid-way through 2015 I decided I wanted to work in HR/Recruiting. This internship showed me first hand what a typical work day is like for recruiting as well as the best ways to keep high retention rate and create a positive working environment."
What attracted you to our company?

"Definitely our 4 values of integrity, work ethic, positive attitude, and student mentality.  Student mentality has the most meaning to me because no matter how successful you are in something, there is ALWAYS room for improvement and you are constantly learning.  The idea that failure is OK as long as you are able to learn from it."
What skills have you gained while working here?
"Patience, understanding, and the ability to be self-sufficient.  My organization skills have improved immensely and I am definitely a lot better at talking to strangers!"
What would you say is the most valuable thing you have learned while working here?
"Having a positive attitude no matter what will get you where you need to be."
What skill that you learned here will you continue to use in your everyday life moving forward?
"Organization and time management!"
What advice would you give someone embarking on this career path – intern or full time?
"Make lists!!!!"
What are your professional goals for the future?
"I am not sure what exactly I want to do, but I know it will involve working face to face with others daily (hopefully HR/recruiting and/or counseling)."
"I am so grateful for the opportunity I was given to work with everyone at Opus Business Consulting.  I have never met more motivated people in my life. There was not a day that I left the office and didn't feel like I learned anything."
We hope you enjoyed getting to know Laila as much as we did! We will miss having her around at Opus Business Consulting, but we are excited to see what's in store for her bright future!  Go get 'em, girl!